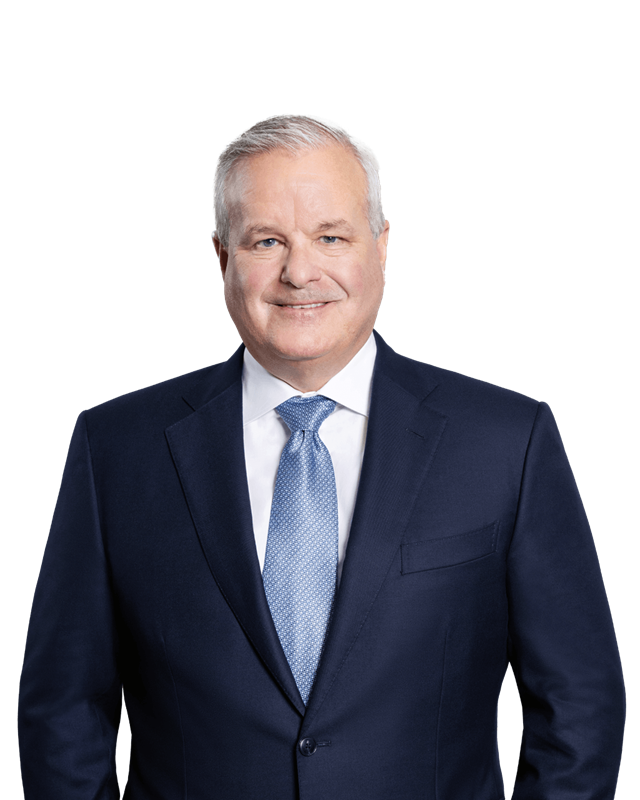 Peter is one of the most prominent and highly regarded patent trial lawyers in Canada.
Peter Wilcox
Partner
Bio
Education
Awards
Affiliations
Peter is a partner at Belmore Neidrauer LLP.
Peter is one of the most prominent and highly regarded patent trial lawyers in Canada.
His practice focuses on complex intellectual property litigation, with an emphasis on pharmaceutical and biotechnology patent litigation, including Patented Medicines (Notice of Compliance) proceedings.
Peter represents clients in patent and trademark, disputes. He has represented clients in many areas, including medical devices, pharmaceuticals, biotechnology, oil and gas drilling equipment, food supplements, consumer goods, and computer hardware and software.
Peter has appeared before the Supreme Court of Canada, the Canadian Federal Court and Federal Court of Appeal and the Ontario courts at the trial and appellate levels, as well as the Canadian Trade-marks Opposition Board. He also has jury trial experience in U.S. district courts.
Peter is a registered patent agent and a registered trademark agent in Canada.
Peter has been frequently and consistently recognized by his peers and clients as a leading intellectual property litigator.
Chambers recognizes Peter as a prominent and highly regarded patent disputes lawyer who has represented numerous industry leaders in the pharmaceutical and broader life sciences sector in complex patent litigation.
Chambers notes that Peter vigorously advances his client's interests and has a great courtroom presence.
Who's Who Legal recognizes Peter as a "go-to litigator."
IAM Patent 1000 says that Peter is a "litigator par excellence" and is a repository of trust for his clients.
Called to the California Bar, 1997
Called to the Ontario Bar, 1994
University of Toronto, LL.B., 1992
University of Toronto, B.A.Sc. Chemical Engineering,1988
Legal 500 Canada

Leading Individual

2024

LMG Life Science

Patent Litigator of the Year - Canada

2023

Who's Who Legal: IP Guide

Global Elite Thought Leader

2023

IAM 1000

The World's Leading Patent Professionals 2023: Litigation

2023

IP Star

Managing Intellectual Property

2023

Benchmark Litigation

Litigation Star

2023

Legal 500 Canada

Leading Individual

2023

Chambers

Intellectual Property Litigation

2023

Chambers Canada

Intellectual Property Litigation

2023

Best Lawyers in Canada

Best Lawyers in Canada 2023

2023

IAM Global Leader

Patent Litigation

2023

Canadian Legal Lexpert Directory

Intellectual Property

2023

Canadian Legal Lexpert Directory

Litigation: Intellectual Property

2023

Canadian Legal Lexpert Directory

Life Sciences & Health

2023

Lexpert/ALM 500

Intellectual Property

2023

LMG Life Science

Leading Life Sciences Lawyer

2022 - 2023

Who's Who Legal Life Sciences

Global Elite Thought Leader

2022

IAM 1000

The World's Leading Patent Professionals 2022

2022

IP Star

Managing Intellectual Property

2022

Chambers Canada

Intellectual Property Litigation

2022

Chambers Global

Intellectual Property Litigation

2022

Canadian Legal Lexpert Directory

Intellectual Property

2022

Canadian Legal Lexpert Directory

Litigation: Intellectual Property

2022

Canadian Legal Lexpert Directory

Life Sciences & Health

2022

Who's Who Legal Life Sciences

Patents

2022

Legal 500 Canada

Leading Individual (Intellectual Property)

2022

Benchmark Litigation

Litigation Star

2022

Best Lawyers in Canada

Best Lawyers in Canada 2022

2022

Who's Who Legal Life Sciences

Life Sciences and Patents

2022

Who's Who Legal Life Sciences

Life Sciences 2022 (Patent Litigation)

2022

Who's Who Legal Life Sciences

IP – Patents: Most Highly Regarded

2022

Legal 500 Canada

Leading Individual

2021

Canadian Legal Lexpert Directory

Intellectual Property

2021

Canadian Legal Lexpert Directory

Litigation: Intellectual Property

2021

Who's Who Legal Life Sciences

Patents

2021

Benchmark Litigation

Litigation Star

2021

Best Lawyers in Canada

Best Lawyers 2021

2021

Chambers Canada

Intellectual Property: Litigation

2021

Who's Who Legal Life Sciences

Life Sciences - Patent Litigation and Canada

2020

Best Lawyers in Canada

Intellectual Property Law

2020

LMG Life Science

LMG Life Sciences 2020 Star

2020

Who's Who Legal Life Sciences

Patents

2019

Chambers Canada

Intellectual Property Litigation

2019

LMG Life Science

Patents

2019

Lexpert®

Lexpert/American Lawyer Guide to the Leading 500 Lawyers in Canada

2019

IAM 1000

Patent 1000: The World's Leading Patent Professionals 2018: Litigation (Gold Band)

2019

Martindale-Hubbell®

BV Rating (Distinguished)

2019

Lexpert®

Lexpert® Guide to US/Canada Cross-Border Lawyers in Canada

2019

Best Lawyers in Canada

Intellectual Property Law

2019

Who's Who Legal Life Sciences

Patent Litigation

2019

IP Star

Managing Intellectual Property

2019

Benchmark Litigation

Litigation Star

2019

Chambers Canada

Intellectual Property Litigation, Band 2

2018

Lexpert®

Lexpert/Thomson Reuters' Canadian Legal Lexpert Directory, 2018 – Most Frequently

2018

Benchmark Litigation

Benchmark Litigation

2018

Legal Media Group Expert Guide

Patents

2018

Who's Who Legal Life Sciences

Patent Litigation

2018

Lexpert®

Lexpert Guide to U.S./Canada Cross-Border Lawyers in Canada

2018

Recommended in Litigation

Intellectual Property and Intellectual Property and Consistently Recommended in Biotechnology

2018

Who's Who Legal Life Sciences

Patents

2018

Lexpert®

Lexpert/American Lawyer Guide to the Leading 500 Lawyers in Canada

2018

IP Star

Managing Intellectual Property

2018

WIPR

WIPR Leaders Directory

2018

Who's Who Legal Life Sciences

Patents

2017

Lexpert®

Lexpert Leading US/Canada Cross-Border Litigation Lawyers in Canada

2017

Best Lawyers in Canada

Intellectual Property Law

2017

Lexpert®

Lexpert/Thomson Reuters' Canadian Legal Lexpert Directory – Most Frequently

2017

Legal Media Group Expert Guide

Patents

2017

Lexpert®

Lexpert/American Lawyer Guide to the Leading 500 Lawyers in Canada

2017

Benchmark Litigation

Provincial Litigation Star (2017) – Ontario: Intellectual Property

2017

Who's Who Legal Life Sciences

Patent Litigation

2017

WIPR

2017 WIPR Leaders Directory

2017

Recommended in Litigation

Intellectual Property and Repeatedly Recommended in Intellectual Property

2017

Lexpert®

Consistently recommended practitioner in Intellectual Property Litigation and repeatedly recommended practitioner in Biotechnology and Intellectual Property

2016

Benchmark Litigation

Local Litigation Star (2014) – Ontario and Litigation Star (2014) – Canada: Intellectual Property

2016

IAM 1000

The World's Leading Patent Professionals 2016: Litigation

2016

Lexpert®

Lexpert US/Canada Cross-Border Guide - Litigation

2016

IAM 1000

The World's Leading Patent Professionals 2015: Litigation

2016

IP Star

Managing Intellectual Property

2016

Who's Who Legal Life Sciences

Patent Litigation

2016

Lexpert®

Consistently recommended practitioner in Intellectual Property Litigation and repeatedly recommended practitioner in Biotechnology and Intellectual Property

2016

IP Star

IP Star, Managing Intellectual Property

2016

LMG Life Science

Life Sciences Star

2016

Benchmark Litigation

Local Litigation Star (2016) – Ontario: Intellectual Property

2016

Who's Who Legal Life Sciences

Life Sciences

2014

IAM 1000

Guide to the World's Leading Patent Practitioners (Silver – Litigation)

2014

Chambers

Leading lawyer in intellectual property litigation

2014

Lexpert®

Consistently recommended practitioner in intellectual property and in intellectual property litigation

2014

Who's Who Legal Life Sciences

Life Sciences

2013

Chambers

Guide to Intellectual Property litigation

2013

Best Lawyers in Canada

Leading lawyer in intellectual property

2013

Lexpert®

Repeatedly recommended practitioner in intellectual property and in intellectual property litigation

2013

Recommended in Litigation

Recommended Canadian practitioner in intellectual property: patent litigation and life sciences: patent litigation

2012

IAM 1000

The World's Leading Patent Practitioners

2012

IAM 1000

The World's Leading Life Sciences

2011

Who's Who Legal Life Sciences

Leading lawyer in patents

2011

IAM 1000

The World's Leading Patent Practitioners

2011

Lexpert®

Repeatedly recommended practitioner in biotechnology

2010

Best Lawyers in Canada

Leading lawyer in intellectual property

2010

Real Time News

Leading lawyer in intellectual property/litigation

2009

Lexpert®

One of Canada's litigation lawyers to watch

2007

Recommended in Litigation

Practical Law Company's Which Lawyer

2007

Lexpert®

Up-and-coming practitioner in intellectual property litigation

2006

Lexpert®

One of the 25 litigators to watch

2006

Recommended in Litigation

Recommended life sciences practitioner in intellectual property law

2006

Lexpert®

One of Canada's 25 litigators to watch

2005
Litigation Counsel of America, Fellow
Member, Trial Law Institute
Member, Diversity Law Institute
Intellectual Property Institute of Canada, (President, 2015-2016)
Intellectual Property Institute of Canada (Member of Council; 2007-2009; Member of Executive 2012 - 2017)
Canadian Bar Association
The Advocates' Society
Intellectual Property Section, American Bar Association
Intellectual Property Owners Association
Intellectual Property Institute of Canada (Chair, Intervention Committee, 2007-2011)
Intellectual Property Institute of Canada (Chair, Litigation Committee; 2000-2008)
Federal Court of Canada IP Users' Committee (Member, 2008-2011)
Peter was an Adjunct Faculty Moot Advisor (Harold G. Fox Intellectual Property Moot) at the University of Toronto, Faculty of Law (2010-2012)
Peter has taught advocacy for the Osgoode Hall Intensive Advocacy course. Peter has also taught trademark law at Osgoode Hall Law School and patent law at the University of Toronto, Faculty of Law
Intellectual Property Institute of Canada (Vice Chair, Professional Regulation Committee, 2022 – present)
Related news
Belmore Neidrauer LLP was named an "Elite Boutique" in the Legal 500 2024 Rankings, with partner Peter Wilcox highlighted as a Leading Individual. Marian Wolanski and Stephanie Anderson have also been recognized as Next Generation Partners

Belmore Neidrauer partner Peter Wilcox was recognized as Patent Litigator of the Year - Canada at the 2023 LMG Life Sciences Americas Awards. North America Award Winners (lmglifesciences.com)

Belmore Neidrauer partner Peter Wilcox has been recognized in the Who's Who Legal: IP 2023 Guide as a Global Elite Thought Leader. The guide, based on feedback from clients and peers, describes Peter as a "very strong and tough litigator." The guide is available here: Whoswholegal - Market Insight